MarTERA UNDINA; Underwater robotics with multi-modal communication and network-aided positioning system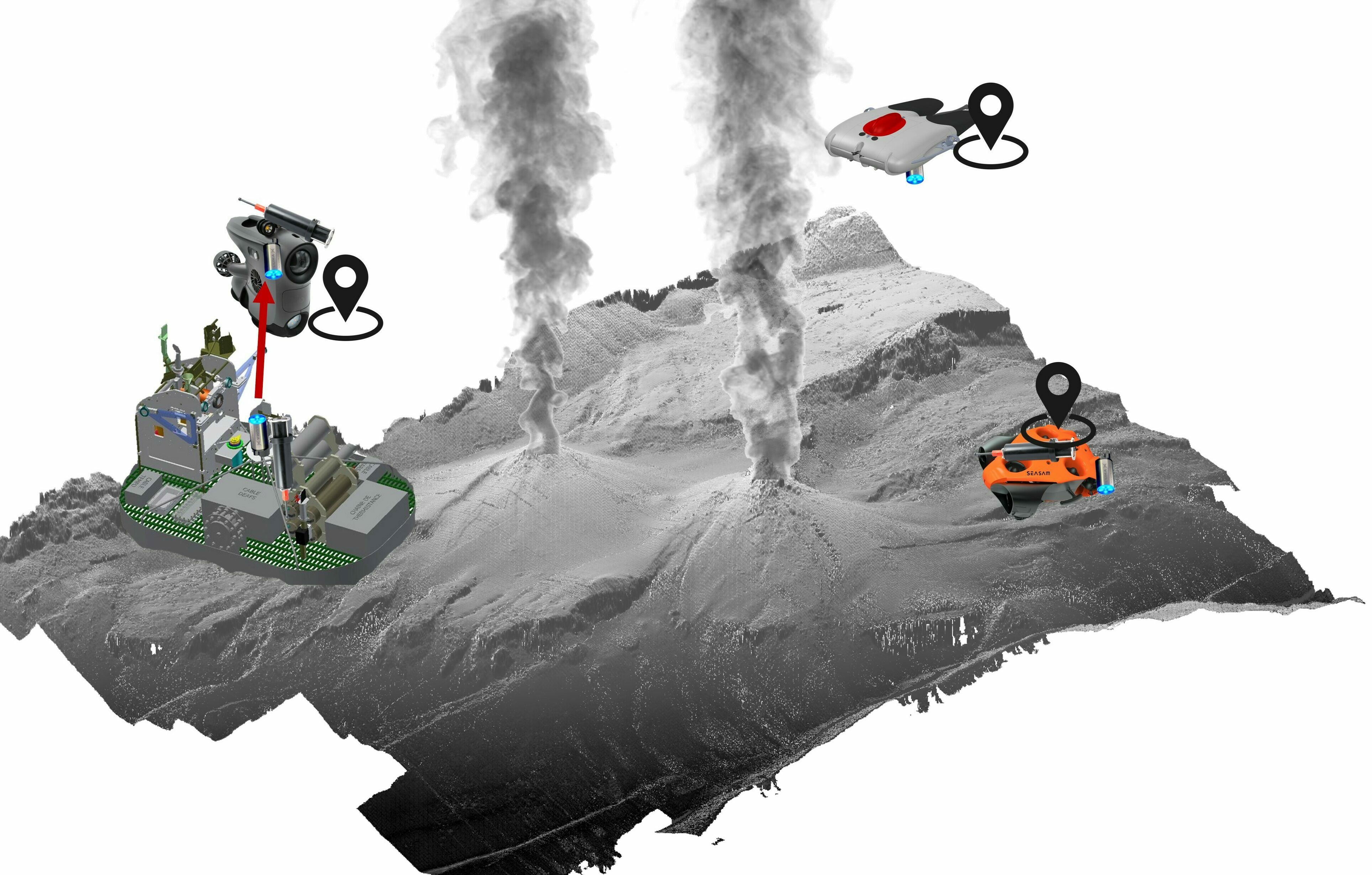 Possible scientific use case scenario for the technology developed in UNDINA. Hydrothermal image credits: Thibaut Barreyre, NORCE
UNDINA aims at providing a reliable, compact, plug-and-play communication, networking, and positioning system designed for resource constrained underwater drones.
The solution will be tested over underwater drones that are easily manoeuvrable, light weight, small, and with low associated operational costs.
The solutions delivered within the project are an opto-acoustic integrated communication system and a network-based positioning system. The delivered prototypes consist in three underwater drones and two benthic stations with integrated the above systems.
Magnetic inductive plugs with high data rates available through very short range (max 4 cm) WiFi are also integrated in the drones.
These prototypes will demonstrate three on demand services: a) distributed upload of large data collection from remote sensors; b) multi-mobile platform geo-referenced data offload to the benthic station; and c) docking for recharging the drones.
These are relevant use cases of marine robotics in rapidly developing applications where both cabled and wireless remote underwater and seafloor infrastructures are deployed. An example of industrial underwater infrastructures are open-water and coastal fish farming nets, floating wind turbines, and Oil & Gas pipes.
Aquaculture, offshore wind, and petroleum ocean industries, all aim at increasing the amount of autonomous, unmanned operations, and maintenance. This reduces vessel time, man-hours costs, and offshore work Health and Safety risks. In addition, it optimizes value creation in industrial processes.
UNDINA improves communication and positioning capabilities, thus enabling networking solutions for a scalable sensing technology.
Current single technology communication and positioning solutions suffer from local and/or temporal unreliability of the data transfer quality. Being able to rely on different communication technologies, when the distance between transmitter and receiver allows it, makes the communication and positioning system more reliable, robust to space-time varying water conditions, and more accurate than existing solutions.
WP2: Specifications,uses, sustainability
This workpackage is dedicated to the definition of both industrial and scientific use cases. Within this work-package we also defined the physical interfaces among the different integrated systems. The acoustic pollution environmental risk assessment was also carried out within this work-package. This is one of the first study within the context of a mobile acoustic positioning and communication network.

WP3: Communication and positioning module
WP 3 deals with the design and implementation of multi-modal communication and positioning module with an opportunity to select the operation mode, e.g., optical mode only for high bitrate data exchange, or a combination of the optical mode and acoustic mode for simultaneous bi-directional data exchange or acoustic mode only when optical one is not available.

Design and implementation of a programmable protocol stack that will run in the drones and the benthic stations. Leveraging the SW framework EviNS and the operation mode called "software-defined USBL-modem", for software-defined acoustic communication and networking will be implemented among stationary (benthic stations) and mobile underwater assets (drones).
Developed functionality for the network-aided positioning of the remote data sources will provide reliable operation in stratified waters (layered inhomogeneous environment) by means of placing additional (autonomous) positioning device(s) in the operational area. In this way, the acoustic or optical connectivity among the USBL and positioning objects will be improved thanks to the network of multi-modal relay links.
Positioning accuracy will improve thanks to remotely controlled USBL-modem (thanks to the multi-modal communication network) and the autonomously generated USBL positioning estimates at the drones.
WP4: Robotic system integration
The WP4 is responsible for two important tasks, one is carrying out the fully functional software and electro-mechanical integration of the multi-modal module into drones and benthic stations, the other is to develop autonomous navigation scenarios to perform data collection and docking.

Moreover, the drones (Blueye X3, Seasam, and Poggy) will use a user interface developed to perform basic mission planning. Accurate positioning will be based on both the USBL data and visual algorithm to enable docking.
At last, specific magnetic connectors will be integrated on both drone and benthic stations to enable underwater charging.
Testing will be achieved by using the pool tests and offshore fully controlled test facilities at IFREMER, NTNU, and CELADON SEA TEST BASE.
WP5: Pilot experiments
In WP5, three experiments at sea are organized and carried out, in each of the three participating countries. These experiments aim at demonstrating the developed technology in actual sea conditions and getting experimental feedback to characterize its strengths and limits.
The diversity of conditions met in the three experiment locations (current, turbidity, temperature, depth), as well as experiences collected in multiple scenarios of practical interest will as much as possible be used to better characterize the developed technology.

These experiments will bring together three drone manufacturers (Notilo Plus, EvoLogics and Blueye Robotics through NTNU), scientific users from NORCE, NTNU, ISEN and IFREMER, and two communication and positioning system manufacturers (Hydromea through Fathom Robotics and EvoLogics). This will enforce and demonstrate interoperability between the different platforms at stake.
The selected demonstration sites are the Bay of Brest (Brittany), the fjord of Trondheim and the Baltic Sea.
Source:
The MarTERA UNDINA Project
Technical specifications of comms and positioning system

Source:
The MarTERA UNDINA Project
Technical specifications of mobile platforms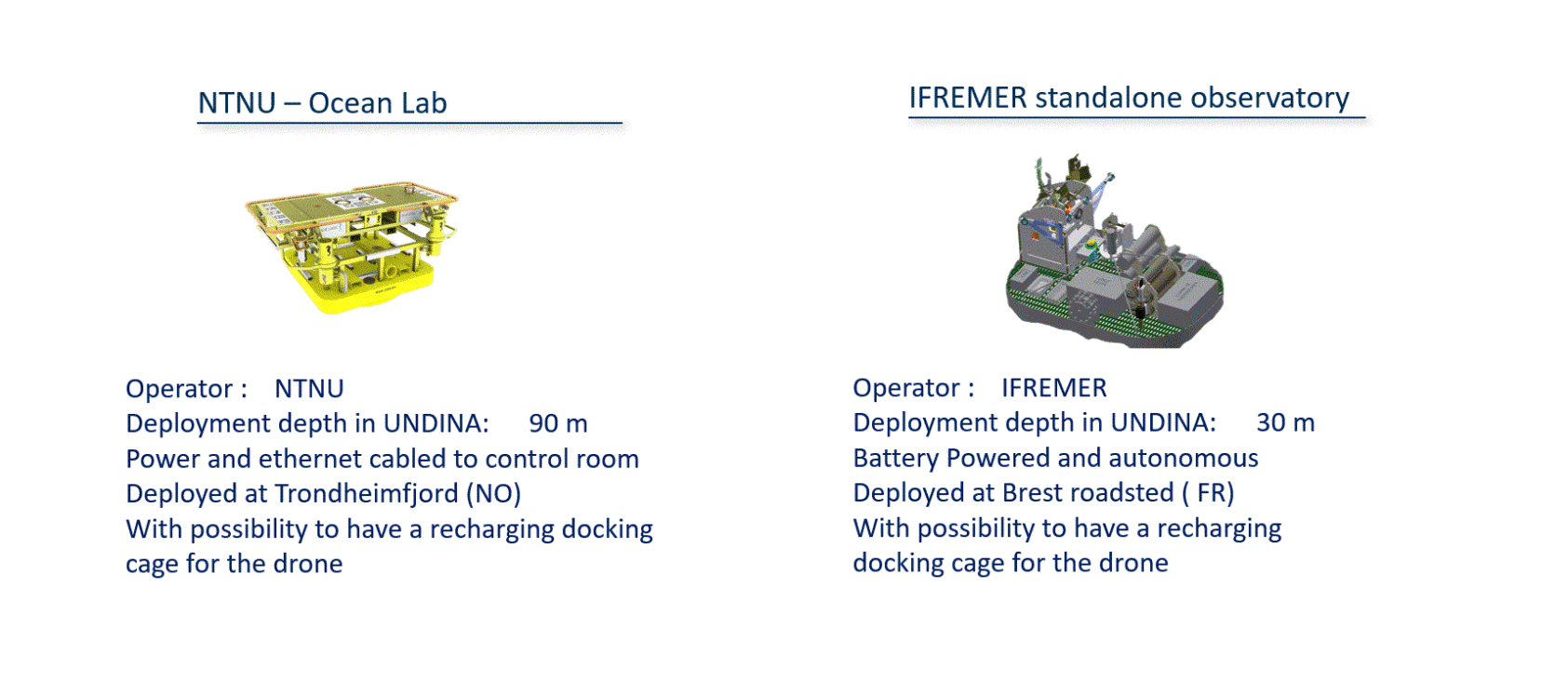 Source:
The MarTERA UNDINA Project
Technical specifications of benthic platforms
Funding
The Research Council of Norway, Agence nationale de la recherche, Federal Ministry of Economic Affairs and Energy as part of their contribution to the ERA-NET COFUND MarTERA.
Contact
Project facts
Name
MarTERA UNDINA; Underwater robotics with multi-modal communication and network-aided positioning system
Status
Active
Duration
01.07.21 - 30.06.24
Location
Bergen
Research areas
Research group
Funding
Research Council of Norway (RCN)
Prosjekteier
NORCE
Project members
John Mulholland
Martin Ludvigsen
Ingvar Henne
Samarbeidspartnere
Fathom Robotics AS, Institut Supérieur de l'Électronique et du Numérique (ISEN), L'Institut Français de Recherche pour l'Exploitation de la Mer (IFREMER), EvoLogics GmbH, Notilo Plus, Norwegian University of Science and Technology (NTNU), CELADON
See all projects