Summertime is Conference Time
Insight
Published: 07.08.2023
Oppdatert: 24.08.2023
Our NRC-project about non-profit organisations in Murmansk region, Russia ends in 2023, and this requires work with articles and presentation of papers on relevant conferences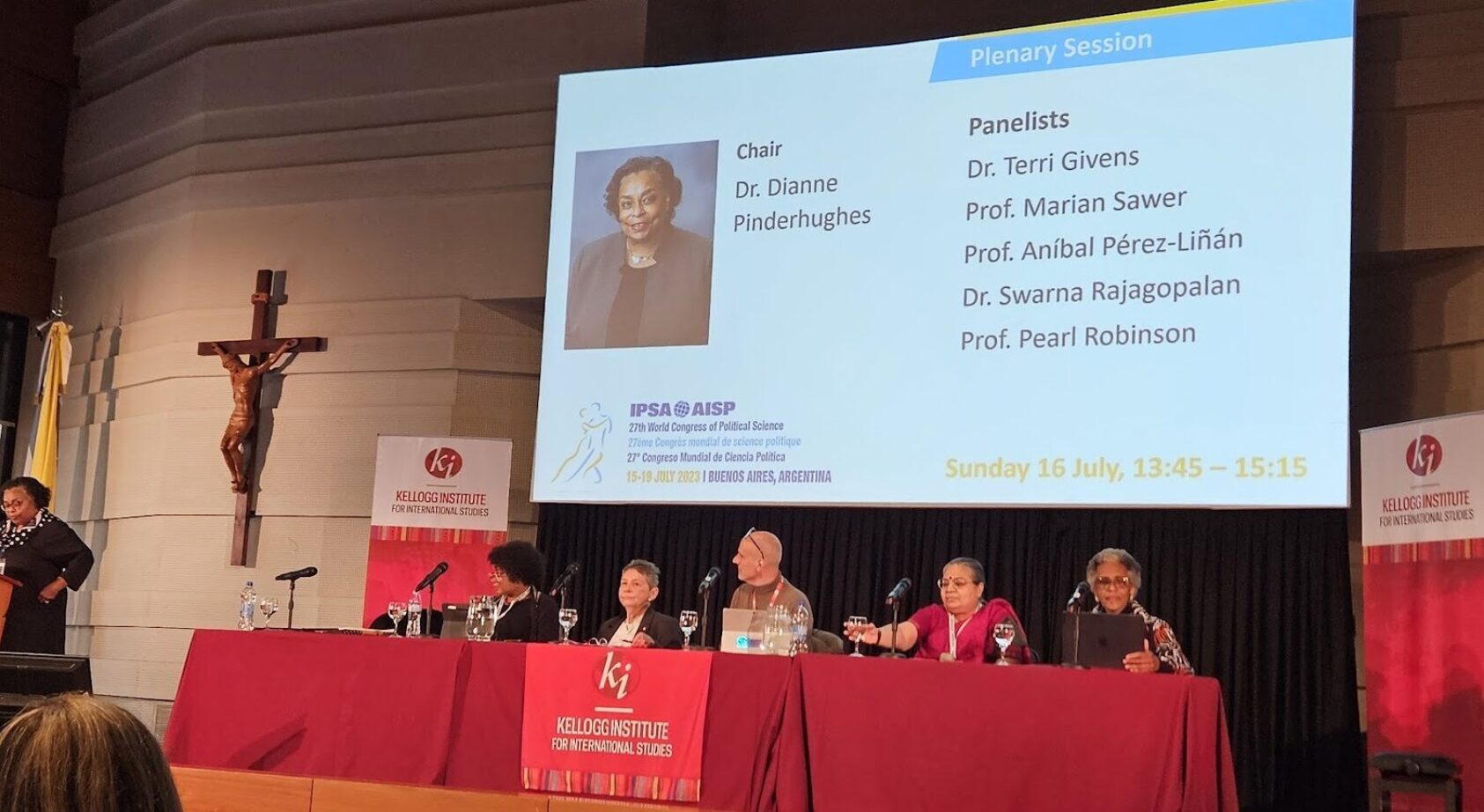 Source:
Vigdis Nygaard
Dissemination activities is an important part of a research project. Photo from a plennary session at IPSA 2023, where researchers from the VOLRUSS-projectet presented project results.
Papers presented in Reykjavik and Buenos Aires
This summer Bård Kårtveit went to the 29th International Conference of Europeanist, held in Reykjavik 27.-29. June 2023. The theme of the conference was "Europe's past, presents, and future: Utopias and dystopias", and gathered reserchers form various disciplins. The backdrop for the conference was the ongoing war in Europe, as well as the aftermatch of the covid and financial crisis. The title of his paper was: "Re-imagining Cross-Border Relations in the High North - The Case of Kirkenes".
Kirkenes is a small Norwegian border town in the High North, that has a history of extensive contact across the border to Russia. Since the collapse of the Sovjet Union, local authorities, voluntary organizations and individuals have established close relations with their Russian neighbors and invested in cross-border cooperation on sports, art and cultural activities, trade and the provision of health and social services. Following Russia's invasion of Ukraine, much of cooperation has been terminated, and the local population tries to adjust to the new reality in different ways.
Based on interviews with individuals within the Kirkenes community, as well as media coverage of ongoing public debates, this paper examines evolving strategies of engagement/disengagement with Russia, the ways in which people imagine their relations with Russians, or with specific groups of Russians, and how this connects with conflicting narratives about Kirkenes and its past, present and future as a border community.
In this paper, Bård looks at how these processes play out in public discussions in Kirkenes, and in the region of Finnmark with reference to three specific issues that are subject to ongoing public debate in Kirkenes, namely
the issue of Cyrillic street signs in Kirkenes,
twin city-agreements with Russian towns, and
Russian access to the Harbor in Kirkenes.
In the aftermath of the Conference, Bård was contacted by Katarzyna Stoklosa, from the Centre for Border Region Studies in Denmark, who took part in the same panel, and asked to write a chapter for a book on border communities, to be published at LIT (German publishing company).
Vigdis Nyggard visited Buenos Aires in the period 15.-19. July 2023. She took part in the 27th World Congress of Political Science with 3000 researchers participating under the conference theme "Politics in the Age of Transboundary Crisis". The title of the paper was: "The Role of Russian socially oriented non-profit organisations under changing conditions - How can context explain different adaption strategies?"
Civil society in Russia is under pressure, particularly since the introduction of the Law on Foreign Agents in 2012. This law applies to politically active non-profit organisations (NPOs) that receive funds from abroad or that are under the influence of foreign countries or organisations, but it increasingly also affects 'non-political' NPOs that are not directly challenging the Russian state. There is a need to gain in-depth knowledge of how these NPOs develop strategies for survival and resilient future activities in the context of a constrained financial and competence landscape. Cook et al. (2021) claim that socially oriented non-profit organisations (SONPOs) are the most active remaining part of Russian civil society today.
The paper presents results from a study of SONPOs in the Murmansk region), applying resource dependency theory.
With an explorative approach, we aim to give the SONPOs interviewed in the Murmansk region a vital voice.
The novelty of this study is that it adds a local context in order to explain adaption strategies for socially oriented non-profit organisations under changing conditions. We argue that place-specific factors can inform some of these differences in adaption strategies.
Our main finding is that SONPOs in the Murmansk region make use of their networks in the local communities to form alliances and to find practical support and financial resources, but lack an overview of, and contact with, other NPOs.