BlueRemediomics: Launching a new era of biodiscovery
News
Published: 03.02.2023
Oppdatert: 03.02.2023
The Horizon EU project BlueRemediomics aims to launch a new era of biodiscovery by establishing strategies to unleash and harness the full potential of marine microbial communities.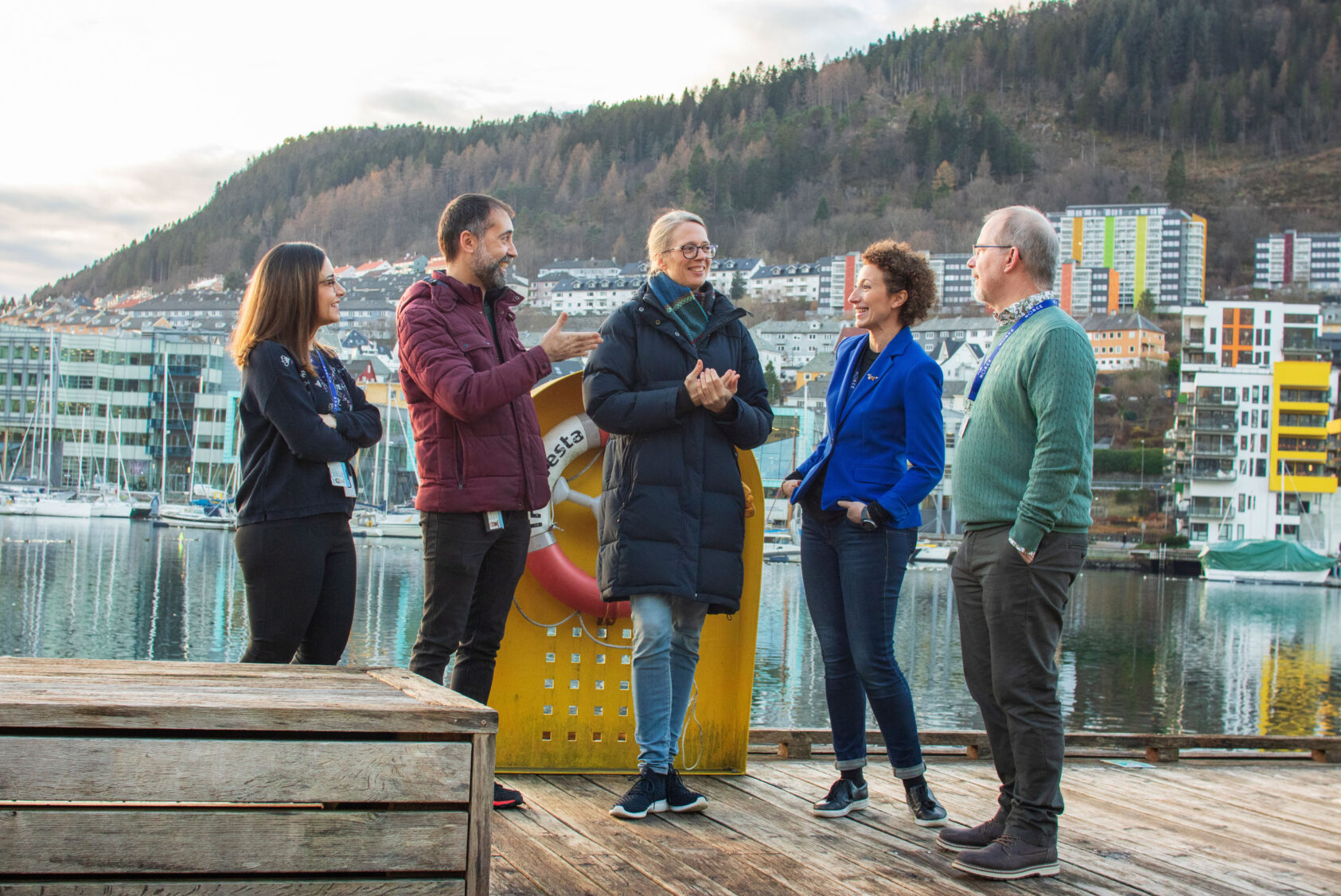 Source:
Andreas R. Graven
Several research groups at NORCE will contribute to The Horizon EU project BlueRemediomics. Here, some of the researchers are gathered at Marineholmen in Bergen, from the left: Neda Gilannejad, Antonio Garcia-Moyano, Gro Bjerga, Naouel Gharbi and Lars Ebbesson (Photo: Andreas R. Graven)
NORCE is one of 23 partners in this project. BlueRemediomics will unite science, industry, and society stakeholders to advance the blue economy in a framework compatible with environmental protection and economic activities.

NORCE researchers will harness the power of the microbiota to improve the uptake and efficiency of new sustainable feed ingredients, and develop probiotics to improve fish health in recirculating aquaculture systems and sea cages in collaboration with LSG Ocean Forest and LEITAT.

"We are very excited to be part of this important project. The potential to use the bioinformatic and culturomic pipelines in aquaculture is just emerging. This consortium is very strong and will provide important proof of concept studies which will enable targeted microbiota manipulation for feed companies to maximize nutrient uptake of new sustainable feeds as well as disease prevention" says Lars Ebbesson, who will be co-leading the WP on Aquaculture.

NORCE will provide upscaling platforms for algae and fermentation processes and conduct research on the use of the microbiota to upscale bone products from fish slaughter waste into useful products.

The project was awarded €7.65 million under the latest Horizon Europe Research and Innovation funding programme with an additional €1.54 million in Associated Partner funding provided by UK Research and Innovation (UKRI) and State Secretariat for Education, Research and Innovation (SERI).
BlueRemediomics launched on 1st December 2022 and will run for four years.
The microbial community will change
All fish have evolved surrounded by and co-existing with a complex microbial community that includes bacteria, fungi, algae, and viruses, and is known as the microbiota. The microbiota exists in the animals' surroundings as well as within the animals, e.g. in the digestive tract. The different microbial species can have either positive or negative influences on the fish and the immune system is developed to combat the threats.
The microbial community will change with environmental changes, such as oxygen, pH, and nitrogen, as the new conditions will be more favourable for some microbes than others. These changes in the microbiota can have an impact on the fish´s health and welfare. An example under the right ocean conditions, harmful algae blooms can emerge that are devastating to fish and in aquaculture open net pens, fish are not able to escape and die.
In many aquaculture production systems, the rearing environment is artificial, in that the intake water is treated to remove most microorganisms whether harmful or beneficial, as a biosecurity measure. While this may hinder the development of harmful bacteria and viruses, it will also alter the microbiota in the system and within the fish, potentially impacting proper immune preparedness as well as optimal digestive function.

"Marine microbes have evolved to exploit and reuse both natural and artificial resources that they encounter in their relatively nutrient-poor environment. This can be as simple as a single enzyme, or involve a series of processes involving different species," said coordinator Rob Finn, Microbiome Informatics Team Leader and MGnify PI at EMBL-EBI.

"The BlueRemediomics project will exploit existing data to help identify such processes and enable us to derive new biobased solutions for reducing waste or for bioremediation."
Open-access biodiscovery platform to integrate microbiome data
A key aim of the project is to develop an open-access biodiscovery platform to integrate microbiome data and to enrich this data with functional information to facilitate its exploration of potential biological products. The project will also develop innovative approaches for the isolation and growth of these microorganisms to further enable such exploration.
Fish Biology and Aquaculture Group (FBA) from NORCE will be leading the aquaculture activities in BlueRemediomics. FBA encompasses researchers with expertise in different aspects of fish physiology including fish health, microbiome, nutritional physiology, stress and welfare, all being highly relevant to fostering the development of sustainable aquaculture.

In this project, they will investigate the nature of the microbiota in different aquaculture systems and then apply culturomics together with the Spanish research institution LEITAT to tailor microbial communities that could be used as probiotics to improve nutrient uptake and to help protect the salmon against disease and sea lice.

Next to developing probiotics, BlueRemediomics will work on harnessing the potential use of other microbial communities for a range of applications such as bone and bioplastic degrading enzymes, biotransformation capacity to degrade emerging pollutants, and production of natural active ingredients for food, cosmetic and pharmaceutical applications.
NORCE is scaling up the production processes of microbial communities
Finally, NORCE will work on scaling up the production processes of these microbial communities. Both the Marine Biotechnology Group (MB) as well as the Industrial Biotechnology Group (IB) at NORCE have ample experience in the scaling up of phototrophic microalgae production and fermentation processes, respectively. NORCE owns the Norwegian Centre for Bioprocessing & Fermentation (NBioC).

This is a fermentation research facility for process optimization, scale-up and piloting. It consists of reactors for traditional and gas fermentation from 1 to 1500L capacity, with analytics and a process control room, as well as microbiology and molecular biology labs.
The microalgae labs at NORCE include a whole range of microalgae cultivation systems, from mL to m3 at the National Algaepilot Mongstad (NAM). All systems are highly controlled and are used for strain selection, process design and optimization, scale-up, and production of biomass. This allows a rapid transfer from low TRL1 to medium/high TRL6 and proof-of-concept experiments supporting a fast track to market.
What is very interesting is that the key focus of the scale-up process development in BlueRemediomics will be to consider the full microbiome to ensure maintenance of the highest biomass or metabolite production rates throughout scaling-up, instead of focussing on one microorganism as in the more traditional production processes.



BlueRemediomics Partners:
European Molecular Biology Laboratory (EMBL) (Germany)
Centre National de la Recherche Scientifique (CNRS) (France)
Sorbonne Université (France)
Commissiariat a l'energy atomique et aux energies alternatives (France)
Institute Français de recherche pour l'exploitation de la mer (Ifremer) (France)
European Marine Biological Resource Centre – European Research Infrastructure Consortium (EMBRC – ERIC) (France)
Stazione Zoologica Anton Dohrn (Italy)
Ústav organické chemie a biochemie AV ČR (Czeck Republic)
Norce Norwegian Research Centre AS (Norway)
Acondicionamiento Tarrasense Associacion (Spain)
Fondation Tara (France)
University of the Western Cape (South Africa)
ABS International (Belgium)
ERINN Innovation (Ireland)
Naicons SRL (Italy)
Latvijas Biomedicinas Petijumu un Studiju Centrs (Latvia)
Boksteen Aquaculture (Belgium)
Valagro SpA (Italy)
Leroy Seafood Group ASA (Norway)
Eidgenössische Technische Hochschule Zürich (Switzerland)
University College London (UK)
The Chancellors Masters and Scholars of the University of Cambridge (UK)
University of Aberdeen (UK)
Funded by the European Union under the Horizon Europe Programme, Grant No. 101082304 (BlueRemediomics).